Laboratory services play an important role in patient diagnosis and management. As a result, laboratories are continually looking for ways to add value to the services they offer to the healthcare community.
Eclair is the ideal solution to create a Dr Portal – a simple way for clinicians to view patient results, place orders and communicate with the lab.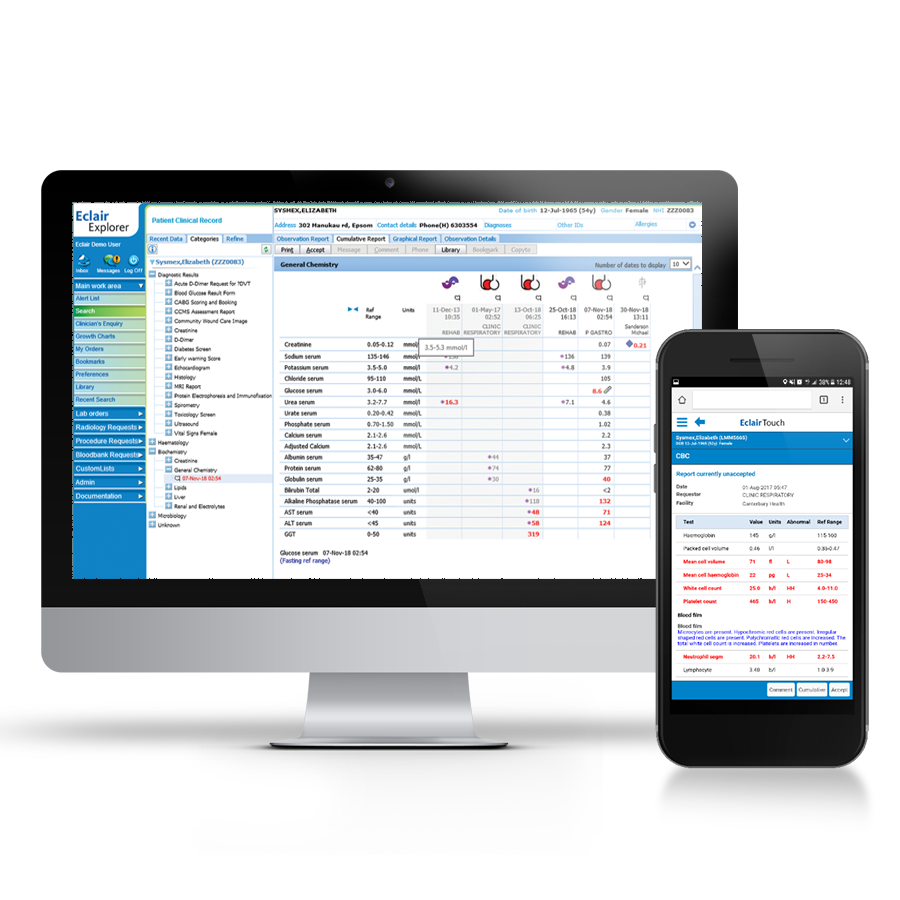 Eclair interfaces with any HL7 compliant system, creating a secure and permanent single view of each patient stored within the Eclair Clinical Data Repository (CDR).

Healthcare providers (GPs, specialists, midwives, pharmacists) can securely access all results and diagnostic reports for their patient in one central place, via a website or mobile device.

An intuitive user interface which presents all laboratory results clearly and accurately including abnormal highlighting, cumulative and graph view plus tools to manage results.

Supports two-factor authentication for easy remote access.

Lab call centre staff can easily look up patient records in one central location, even when tests and procedures have been performed at different facilities.

Patient confidentiality is safeguarded, with the ability to restrict access and maintenance of a full audit trail.

Healthcare providers can request lab tests online and easily follow up with their patients, e.g. text reminders about pending lab collects.

Total management of the specimen collection workflow and labelling for Collection Rooms.

Eclair interoperates with healthcare provider's existing systems, integrating the two applications to provide a unified user experience.

Healthcare providers can communicate directly with the laboratory about a patient or a report using the inbuilt messaging functionality.
Downloads
**Eclair is not a medical device as it does not have a therapeutic purpose.