The Journey to Mobility for Eclair
Sysmex is excited to launch the Eclair mobile website which allows users to view and manage results on any mobile device.Eclair is an essential clinical application for healthcare providers across New Zealand. Seamlessly integrated with a range of systems, Eclair provides the source of truth for diagnostic results and data through its rich clinical data repository and is a proven platform for electronic ordering and results management. The demand for mobility is everywhere, so mobilizing Eclair functionality is a key part of Sysmex's development road map.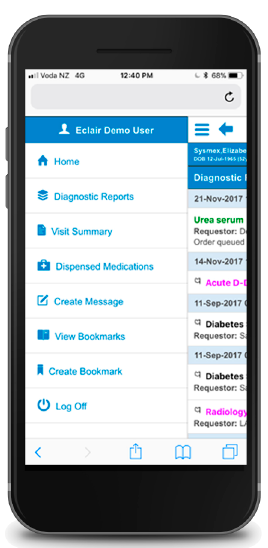 There is some perception within the healthcare industry that Eclair is only a lab results viewing application, but in truth it is far beyond this and has been for well over decade. The data presented and stored in Eclair extends across the full spectrum of diagnostic and clinical information including pathology results, laboratory orders and results, radiology orders and reports,cardiology reports, wound history images, nutrition status assessments, CABG priority assessments, dispensed medication lists,clinical documents, discharge summaries, POCT data, growth charts, and more.Throughout the development of Eclair Touch, there has been significant emphasis on the design and providing an intuitive user experience. This is particularly important because of the diversity of the types of clinical data stored in Eclair and the need to render that data on a mobile device while still ensuring accurate presentation of the results for interpretation.For example, it needs to be able to display cumulative tables of lab results across a range of dates, PDF'd clinical documents such as ECG reports,dispensed medication summaries, and histology results with embedded images. And it needs to provide the ability for reports to be filtered, sorted and viewed by category to make it easier for users to find relevant results.The presentation of diagnostic data on a mobile device has been just one step in the development process. Eclair is also the system in which results are automatically assigned to clinicians for electronic sign off. Electronic sign-off (also known as acknowledgement or acceptance of results) has replaced the necessity for paper reporting of diagnostic reports where a handwritten signature is required.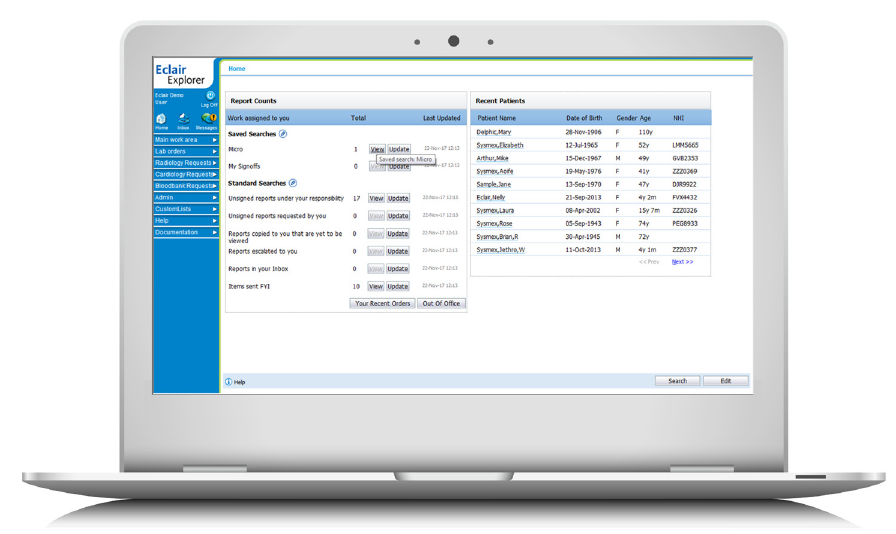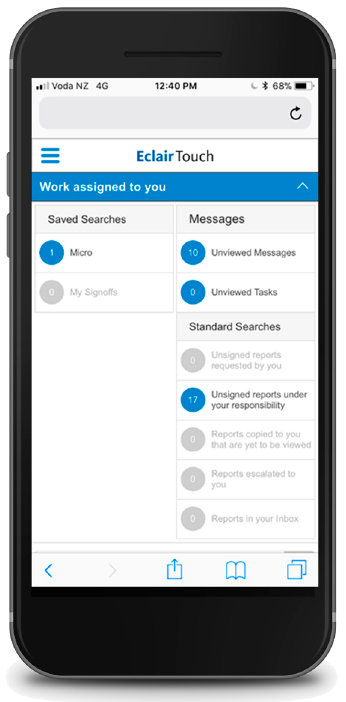 For this functionality, there are a number of different workflow options to meet the needs of the vast range of clinical use cases. The Dashboard which enables clinicians to easily access their results is widely used in desktop Eclair and integrated with the Clinical Portal.This has been replicated in the mobile version.All essential result management tools such as bookmarks, viewing cumulative results, adding comments and notes are also available in Eclair Touch. The presentation of the 'report tree' is designed to be familiar to existing users of the desktop version, utilising the results flags and colours to ensure consistency.
Now when considering any new features for Eclair we take into account the mobile design, i.e. a mobile first approach. For example, in version 7.2 of Eclair we introduced a new Tasks and Messages module. So in parallel with this development, the same functionality is available in the Eclair Touch system.
Eclair Touch Results has been implemented as a pilot at a New Zealand District Health Board – and we are looking forward to capturing the feedback from clinicians and the way they interact with the product.
For more information or a demo of Eclair Touch, please contact either Deborah Steele on [email protected] or ColinMcKenzie on [email protected].
Written by: Deborah Steele
Deborah Steele is the Sysmex New Zealand Health IT Product Manager and oversees the direction of the Sysmex IT product suite. Deborah's experience includes 9 years as a Medical Laboratory Scientist working in both New Zealand and London, pharmaceutical industry product management, plus 12 years' in product specialist and marketing roles at Sysmex.